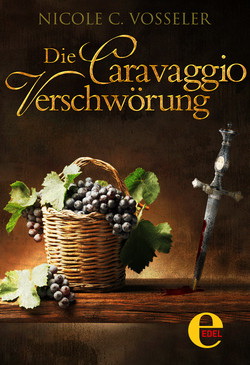 In the footsteps of the master of light and shadow
Naples, September 1609.
Caterina loves Riccardo. Riccardo loves Caterina.
As simple as that.
Or rather: it could be as simple as that.
If Caterina was not a wealthy spice merchant´s daughter and Riccardo not from humble background, earning the meagre bread for himself, his mother and his younger siblings in a tavern.
Knowing that their love may have no chance, Caterina and Riccardo live only for the moment - for stolen hours at night, in the streets of Naples.
One evening, while at work, Riccardo gets in trouble with the innkeeper. Without hesitation, he offers the boy as prize in a gambling card game among the guests. The winner is: Michelangelo Merisi, called Caravaggio. A painter, as famous as infamous, who knows no morals and no laws other than his own.
Caterina, who is about to be married to a rich nobleman much older than her, flees from home and finds refuge with Riccardo and Caravaggio. Together, they embark on a journey to Rome, where Caravaggio is supposed to receive mercy for an illegal duel some years ago, in which he killed his opponent.
But along the way to Rome, Caravaggio dies - probably murdered. Caterina and Riccardo set out to Sicily, then Malta, to solve the mysteries surrounding Caravaggio´s life and death. Soon they discover in Caravaggio´s footsteps not only the colorful world of an artist, of a genius - but also a world of treason and deadly intrigues.
Pursued by dangerous enemies, they soon have to fight for their own lives …
Sumptuous and thrilling historical fiction for young adults, taking up famous paintings of Caravaggio as well as stations of his turbulent life and interweaving them with the narrative.

An adventurous road trip through Italy and the Mediterranean Sea, set in the early Baroque period, and a hazardous search for traces and justice in the company of two star-crossed lovers.
Nicole C. Vosseler succeeds especially in keeping the secret of the famous painter: instead of explaining his character, she makes him speak through his art and thus captures his spell.
Eselsohr
Coordinates
available as
Foreign rights