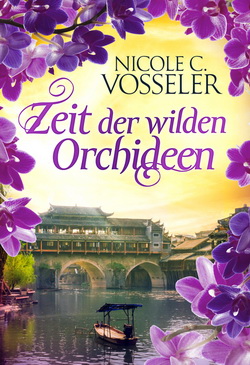 As deep and wide as the ocean
Singapore in the 1840s: gateway to all the treasures of Asia, a magnet for sailing vessels and people from all over the world.
This is where Georgina lives, mainly left to her own devices after the death of her mother. In the lush and rampant garden by the sea the girl with the violet eyes can roam freely, forgetting her loneliness for a while. One day she finds an injured boy in the garden´s pavilion: Raharjo, who belongs to the Orang Laut, the
sea people
- nomadic tribes inhabiting the coasts of Singapore and the surrounding islands on their boats, making a living as fishermen, pirates, traders and warriors at sea.
As if destined by fate, their paths cross again and again over the decades to come. This love that is not to be draws them into a maelstrom of passion and hate, and their struggle for power and revenge changes not only their lives forever …
An epic love story and sweeping family saga as well as a portrait of Singapore during its formative years, drawing on the rich multicultural heritage of the Lion City: Malay, British, Indian, Tamil, and Chinese.

A sumptuous, sensual and multilayered tale of shifting identities in times of change, of forbidden love and the blindness of the human heart, of revenge and retribution - and last but not least a tale of the clash and blend of cultures in Singapore´s melting pot.
Coordinates
available as
Order ebook
Foreign rights
Rights sold to Eksmo (Russian), Laguna (Serbian), Ediciones B (Spanish)
For foreign rights enquiries please contact
Montasser Medienagentur