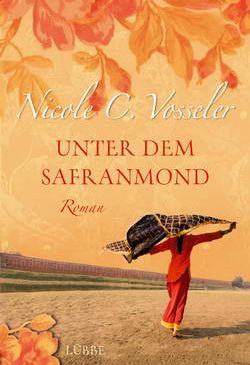 East of the sun, west of the moon
Oxford, 1853. Maya Greenwood has been shaped by life in the bustling university town - and by the close relationship to her father, professor of Ancient History. Much to her mother´s chagrin, Maya is still unmarried at twenty and not in the least inclined to keep her eyes open for possible suitors - in contrast to her capricious younger sister Angelina.
Instead, Maya prefers to spend her time with books, bitterly disappointed that women are not allowed to attend university. She dreams of the kind of freedom women are denied in Victorian England, of adventures in distant countries - and of Richard Francis Burton, explorer and adventurer, often a guest with the Greenwoods when Maya was still a little girl. Her first innocent love as a child and the first man she ever kissed as a young woman. After all, a fortuneteller once predicted the letter
R
in the lines of her palm would be her destiny and guide her to faraway shores.
Shortly before Christmas, her older brother Jonathan returns from India, where he serves in the Army Medical Corps. With him, he brings a guest: Ralph Garrett of the Corps of Guards, based at India´s North West Frontier. Angelina immediately sets her cap on the handsome young man from good family. But Ralph falls head over heels in love with Maya, who returns his feelings.
Since her parents are against this relationship, Maya and Ralph elope with Jonathan´s help. But Maya´s dreams of a life India are shattered; instead, the young couple ends up in Aden, at the southwestern tip of the Arabian Peninsula: an inhospitable outpost of the British Empire, dreary and with a murderous climate. After less than one year, the marriage is on the rocks; a crisis aggravated by a reencounter between Maya and Richard Francis Burton.
Against all orders of authorities, Maya takes long walks over the hills outside the town and there, she is abducted by Bedouins: a form of political pressure against British presence in Aden as well as for ransom.
After the first shock and failed attempts to escape, Maya comes to terms with her situation, in a bizarre way as well guest as prisoner. On her journey into the heart of Arabia, she finally experiences the adventure she has always dreamed of. And she discovers that the leader of the Bedouins, the charismatic Rashad al-Shaheen, is everything but an uncivilized bandit chief: instead, he is a warrior with a vast knowledge of history and culture and high standards of honor and respect.
Caught in a web of political goals and traditional values, Rashad has to choose between his tribe and Maya´s safety - and in the deserts of Arabia, their fates become irrevocably intertwined …
A woman´s search for freedom, adventure and last but not least love. Beneath the Saffron Moon interlaces the life and travels of Richard Francis Burton with the story of Maya Greenwood, inspired by the little girl mentioned in Burtons poem Past Loves.

An epic adventure novel about a hardly known chapter in British colonial history, set against the backdrop of Arabia in the 19th century, the battlefields of the Crimean War and the Indian Mutiny: sumptuous, emotional and multi-layered.
A novel about the search for true love, the growth of the soul and last but not least about the difficulties to overcome prejudices of different cultures … The male characters of this novel are more than just companions on Maya´s journey - they live their own lives. They also undergo a journey towards a deeper consciousness and in addition, they are well portrayed. They fascinate the reader with their moral strength, the devotion to sacrifice true feelings for the sake of conscience and sometimes even only with their personal traits …
Vosseler writes about settings and characters in a style equally poetical, sensitive and powerful.
La Libreria Imaginaria, Italien
Coordinates
available as
Order ebook
Foreign rights
Rights sold to Alma Littera (Lithuanian), MOBA (Czech), Corbaccio (Italian), Sonia Draga (Polish), Editura RAO (Romanian), Eksmo (Russian), Laguna (Serbian)
For foreign rights enquiries, more information or review copies please contact
Bastei Lübbe Foreign Rights Department